This past week we had the pleasure of showcasing the MotionMetrix system at the Beach2Beacon 10K expo in Cape Elizabeth, ME.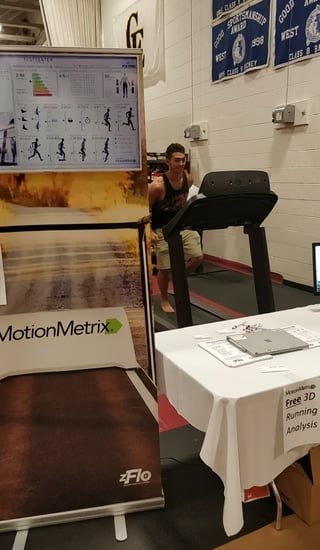 The expo attracted thousands of runners from near and far, and on Friday, we offered free analyses to any and all who were interested.
We ran a total of 31 tests on Friday with 19 runners participating. Testing consisted of a MotionMetrix running analysis and a ~10 minute consultation to explain and clarify the results. The two runners that stood ahead of the pack in terms of their running economy scores were Charlie and Brooks. Both of these runners were from outside of Maine, were under 25, and chose to be tested at speeds higher that most other runners.
Charlie's Running Performance @ 15 Km/h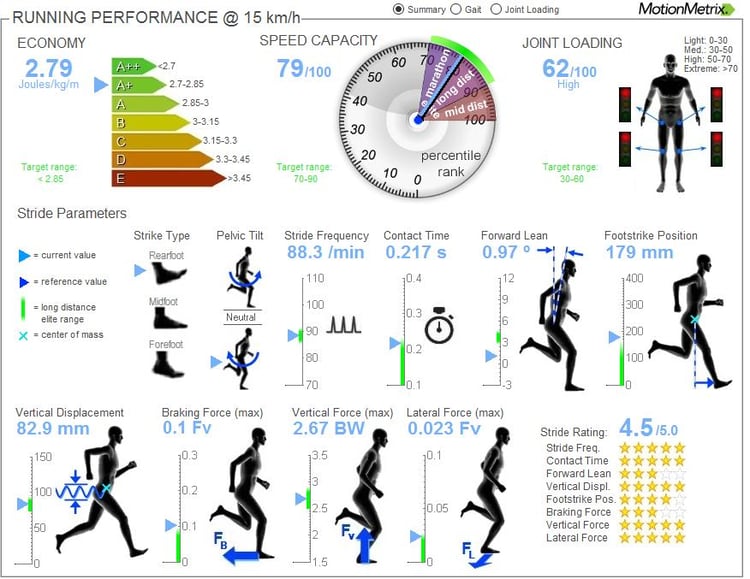 Charlie exhibited an excellent "Gazelle" stride type, with only a few areas for improvement in terms of his stride parameters (as compared to the long distance elite reference range). Additionally, his speed capacity score was at the top of the elite marathon range, which translates to Charlie (potentially - given this is a single sample-set!) having the capacity to exceed at a faster pace during a longer distance race.
Brooks' Running Performance @ 19 Km/h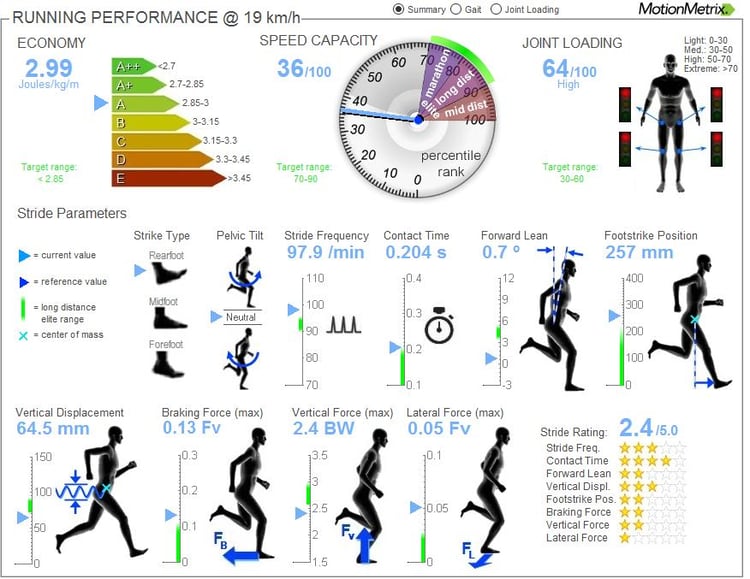 Brooks, on the other hand, had a good running economy score at 19 Km/h, with only a few parameters that fell outside the recommended ranges. It is also worth noting that Brooks did not have his running shoes on hand for the analysis, but instead opted to run in his loafers - quite brave at 19 Km/h on a treadmill, but if he had his proper equipment on we might have seen a different result.
Brooks' test is not easily comparable to Charlie's because they were conducted at different speeds. However, one striking difference in these two is how they finished the B2B 10K - Brooks finished in the top 25 for his age group, while Charlie was in the top 75. More testing would be warranted in a more controlled environment than that of a race expo, however, based on these results, it seems as though Brooks may be more suited to middle distance races, while Charlie might be more suited to long distance or marathon style races.