We are pleased to announce that our partners at MotionMetrix have released an add-on module to their running analysis software. With the latest release, users can now measure walking gait with the system. Read on for a full list of parameters and included measurements.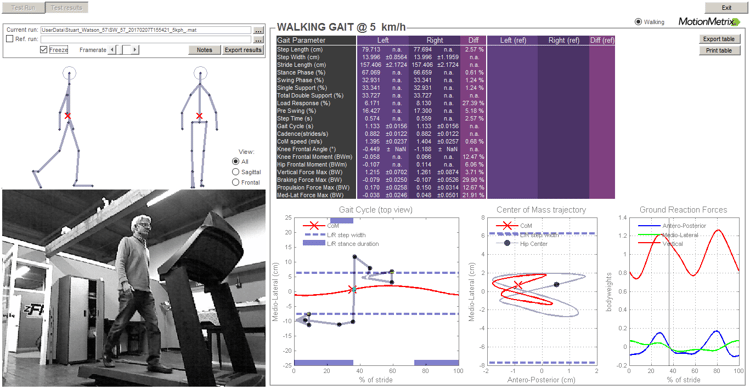 Gait Parameters:
Step Length
Step Width
Stride Length
Stance Phase (%)
Swing Phase (%)
Single Support (%)
Total Double Support (%)
Loading Response (%)
Pre-Swing (%)
Step Time
Gait Cycle (S)
Cadence (Stride/s)
CoM Speed (m/s)
Knee Frontal Angle
Knee Frontal Moment (BWm)
Hip Frontal Moment (BWm)
Vertical Force Max (BW)
Braking Force Max (BW)
Propulsion Force Max (BW)
Medio-Lateral Force Max (BW)
Graphical Representations:
Top View of Gait Cycle
CoM Trajectory
Ground Reaction Forces
Spatial Model of Patient walking
More info on the MotionMetrix system:
Interested in using MotionMetrix for gait analysis?