Recently I was able to speak with Peter Ferguson and discuss his use of MotionMetrix over the last 8 months. Peter is doing fantastic work treating a wide range of conditions at his practice in Peterborough, Ontario, so, with his help, we put together this post to examine his approach to treating patients, and how technology helps him offer the best possible care.
"My name is Peter Ferguson and I am a UK trained podiatrist practicing in Canada since 1990. Together with Kathryn Ferguson, we own and operate Ashburnham Foot and Ankle Centre in Peterborough, Ontario.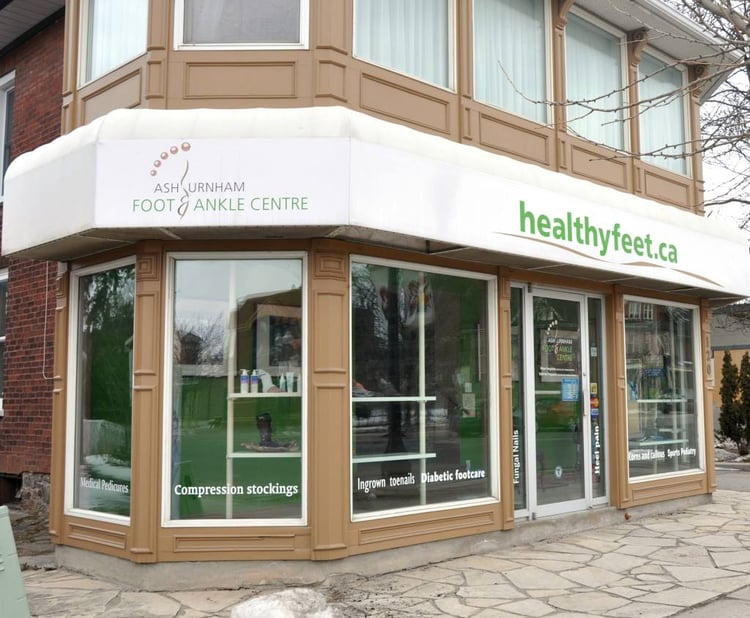 9 years ago, we became increasingly interested in manual therapies related to foot and lower limb function as we explored techniques that would compliment the treatments we were currently offering to patients with biomechanical/gait related problems. We found that through foot mobilization therapies or FMT, exercise management became an integral part of the management plan process. Since then we have developed very specific exercise programs for the foot and lower limb geared to each patient's unique requirements.
A clear understanding of lower limb anatomy, physiology and function is essential for good clinical outcomes as it allows us to have a greater understanding of human gait and pathophysiology. This also includes load forces on the joints and through the connective tissues including tendon, muscle and effects on the fascial tissues. The use of FMT exercise management and a focus on fascia allows for a fundamentally different approach to treat gait problems. Its not to say that more conventional approaches such as foot orthoses and footwear are not relevant, far from it! However, what this approach does allow us to do is to develop treatment options where orthoses and footwear choices complement the overall management plan based on a clearer understanding of the causes of foot and lower limb dysfunction.
The use of technology has for many years, played an important roll in clinical practice; pressure mapping systems, the use of video capture systems are but two examples, which we have utilized. In 2016, we recognised that a more comprehensive gait analysis tool that focused on motion capture would give us the opportunity to develop a greater understanding of human motion which could be applied to a variety of clinical presentations particularly for those patients seeking care for chronic pathologies which have not responded to more conventional approaches. In addition, patients who are actively engaged in their care and have a genuine interest in their movement are excellent candidates for such technology. To that end, we purchased the MotionMetrix system from zFloMotion in early 2017. The use of markerless motion capture technology has proved invaluable in understanding an individual's gait through accurate joint measurement and load forces. This in turn allows us to provide very specific information to the patient in conjunction with the other clinical evaluation tools we incorporate.
Markerless motion capture is proving to be a powerful tool used in conjunction with the other clinical tools and techniques which we utilize at our facility as we look to further develop leading edge care and research in foot and lower limb pathology."
If you are interested in learning more about what Dr. Ferguson, his clinic, or the services he provides, you can visit the Ashburnham Foot & Ankle Centre website and social media pages below.